When you're shopping for a pair of sports sunglasses, you want to find one that fits you and is comfortable to wear while you're doing sports. Look for adjustable nose pads and temples, and lenses that won't fog or scratch. You should also choose a pair that offers UV protection. Lens coatings are used to improve the performance of sunglasses. Different types of coatings can effectively block UV rays and increase reflective properties. Modern technology can deposit single layers of molecules or atoms onto the lens surface, and can also create "stacks" of different layers that can be combined to provide desired performance characteristics. Lens coatings can be clear or tinted, depending on the desired effect. The main function of sunglasses is to protect the eyes from harmful UV rays. Most sun lenses are UV380 or UV400 compliant and offer 100% UVA and UVB protection.
Custom flat top rimless men women fashion oversized sunglasses one piece lens sun glasses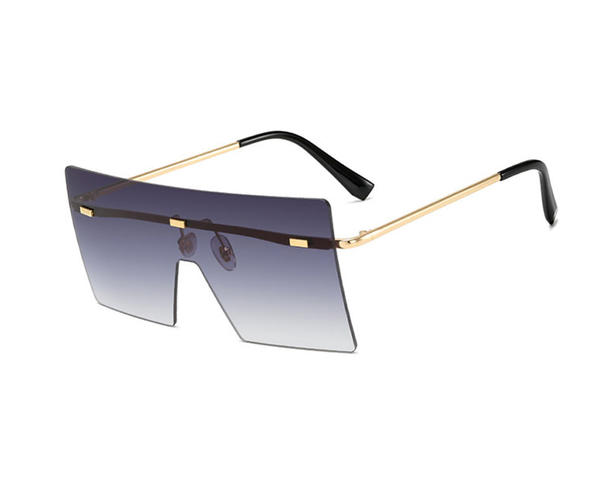 Model Number:HW8587
Size:65-58-148mm
Brand logo printed on sunglasses:Screen Print / 3D printing/  transfer Print
Temple with logo printing:Support
lens color:Gradient tea/ Any Pantone color
Packing details:Individual 1PC/PE Bag 
Sunglasses with AR coating also provide complete UV protection. Anti-reflective sports sunglasses have two main benefits: They block glare and increase visibility. The coating also reduces stress on the eyes. This makes them more comfortable to wear and helps protect your eyes during face-to-face conversations. Not all sunglasses need anti-reflective coatings, but they can play a role in protecting your eyes. The Roka CP-1x sports sunglasses are one such model that offers effective UV protection. These sunglasses feature self-adjusting nose pads to provide a secure fit and prevent fogging. They also feature titanium core wire wrapped with Geko technology for added durability and precision.
These sunglasses also feature interchangeable lenses and nose pads that are easy to change. Anti-fog sports sunglasses can help you maintain clear vision during strenuous physical activity. These glasses have a vented design and a special coating that helps eliminate lens fog. They should also come with special earphones or nose pads with hydrophilic rubber. Additionally, these sunglasses are impact and scratch resistant. Anti-Fog Sports Sunglasses feature a streamlined design that is comfortable and slip-resistant. They come in a variety of shades, including photochromic lenses. They also have good airflow and a wide field of view. Lenses are interchangeable to provide different levels of protection. They are also scratch and shatter resistant. Sports sunglasses protect you from the harsh sun and filter out the light, preventing your eyes from getting irritated or injured. Typically, they block 99% of UVA and UVB rays.
They also protect your eyes from foreign objects such as dust, dirt, bugs, rocks and fingers. This can also help you see objects clearly. In addition to UV protection, sports sunglasses are also designed to improve performance. They have a non-slip frame to keep them from slipping off your face while you're exercising. They come in a variety of designs so you can find one that matches your outfit. Mississippi Eye Care Clinics can help you find the best pair for your needs. When choosing sports sunglasses, choosing the right frame color is important. While a simple pair of white sunglasses may be suitable for casual use, men and women have different face shapes and sizes. Men's frames are wider and longer, and women's frames are more curved. If you're not sure about the fit, consider a unisex style.