You can't go wrong with a classic pair of brown sunglasses. Brown lenses are perfect for any style, and when paired with polarized lenses, they also protect your eyes outdoors. Brown sunglasses can add brightness on cloudy days. They also enhance contrast, making them perfect for many outdoor activities. Brown lenses are known to improve depth perception, which helps with activities such as golfing or driving that require attention to smaller objects in the distance. Brown sunglasses offer huge benefits for people who like to spend time outdoors. For sports and outdoor types, brown glasses can be especially useful.
2022 Newest Man Avaitor Frame Fashion Sunglasses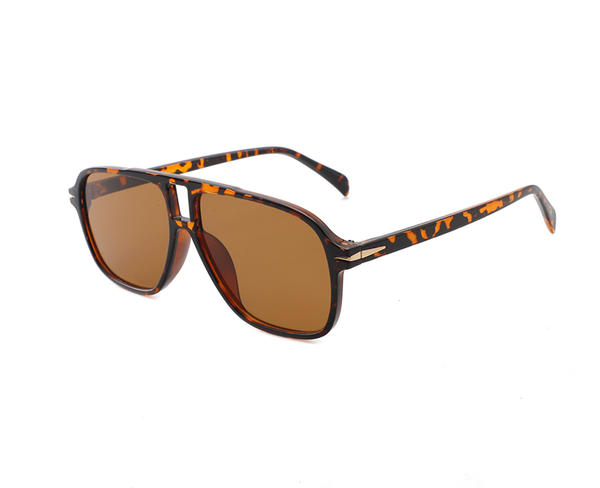 The brown tinted lenses enhance visual clarity, making them ideal for activities such as hunting, fishing and cycling. Not to mention, brown is one of three polarized lens colors! Polarization reduces glare from reflective surfaces, helping you see better when driving past buildings, fishing in bodies of water, or skiing in snow. Brown sunglasses are a great option for anyone looking for eye protection or style outdoors. The people who benefit most from wearing brown lenses exclusively are those who spend a lot of time outdoors and need visual clarity on cloudy days.
If you want a stylish and functional pair of sunglasses, then buying prescription sunglasses may be your best option. After all, why carry more glasses than you need? In addition to prescription single vision sunglasses for tinted, progressive, mirrored and polarized lenses, we also offer special prescription sunglasses for progressive progressive, mirrored progressive and polarized progressive lenses. The light brown lens shade works well both indoors and outdoors. You'll be able to see the world clearly with your own tailored prescription, while protecting your eyes from harmful UV rays.
Choosing the right brown sunglasses will depend on what you want to get rid of them, whether you're focusing on reducing glare during outdoor activities or making an easy transition from inside to outside. You also need a great set of frames to match your brown lenses. Be sure to check your face shape and choose a free frame style. Gold is best when you want a metal or titanium frame. Tortoiseshell, brown and clear are also recommended options if plastic or acetate is more your style.