When it comes to purchasing a good pair of sports sunglasses, there are many factors to consider. These factors include the impact-resistant polycarbonate material, reddish tints, and interchangeable lenses. Some brands have a reputation for counterfeiting their products, which tarnish their image by using lower-quality materials and selling them at lower prices. This can negatively affect the sales of original sports sunglasses brands.Impact-resistant polycarbonate is a great choice for sport sunglasses because it's lightweight and impact-resistant. However, the downside is that it scratches easily. That's why you should choose poly lenses with a scratch-resistant coating to protect them. Poly lenses also offer excellent optical clarity, but are less clear than Trivex lenses.
2022 Custom Cycling Glasses Gafas Ciclismo Oversized PC UV400 Spring Hinge Outdo Sports Sunglasses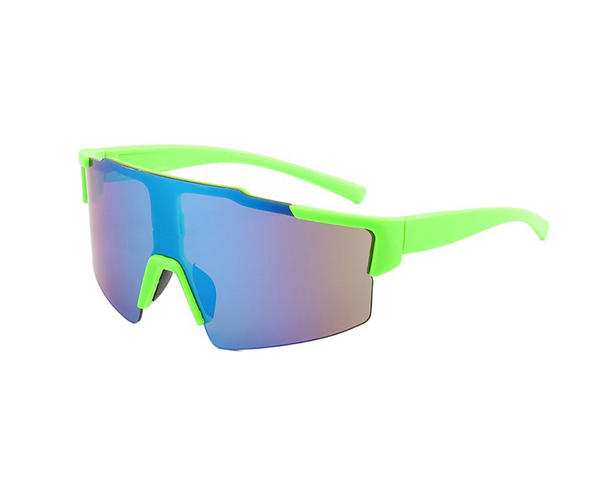 As for the price, poly lenses are cheaper and lighter than other plastic glasses. On the other hand, they are not as durable as Trivex and have some image distortion.Fortunately, impact-resistant lenses are now the standard for sports and safety goggles. They are up to 10 times more impact-resistant than conventional glass or plastic lenses, and are more comfortable than glass. Also, they block 100 percent of UV rays, ensuring that athletes and spectators alike stay protected against harmful rays.If you play sports outdoors, you should get a pair of sports sunglasses.
They come in different tints, depending on the environment, lighting conditions, and type of sport you are playing. For example, the tint you choose for beach volleyball will be different from what you need for golf. It is important to experiment with the tints to see which one works best for you. You can also experiment with different lens materials, such as polycarbonate or trivex.Reddish tints are a great choice if you want to reduce eye fatigue and protect your eyes while playing sports.They increase contrast by blocking blue light.
They're also great for partly cloudy days and can provide good vision even in dimly lit environments. Purplish tints, on the other hand, can balance colour perception and increase contrast against green backgrounds.If you're interested in sports sunglasses that offer the best eye protection, you should consider buying a pair that features interchangeable lenses. Some types feature different lenses that change colour depending on light conditions, while others can accommodate different prescriptions. Many of these sunglasses also have UV400 protection coatings for a truer color and eliminate reflected and scattered light. They also offer a clearer field of vision and are lightweight. In addition, the frames and lenses are made of impact-resistant poly-carbonate.