Butterfly-shaped lady sunglasses are an excellent way to show off your fashion sense and enhance your looks. Made of high-quality materials such as lightweight plastic and hypoallergenic titanium, butterfly sunglasses provide a trendy look and top-notch protection from harmful rays of the sun. There are several different types of butterfly-shaped sunglasses available.Butterfly-shaped sunglasses are a good option for women with oval faces. Their rounded frames and butterfly-shaped lenses give women with these shapes a real visual face lift. When choosing the shape of your glasses, it is important to keep in mind the eyebrow line. They should follow the improved shape of the frame to flatter your oval face.
2022 Newest customized Big Frame Trendy Sun Frame Women's Fashion Sunglasses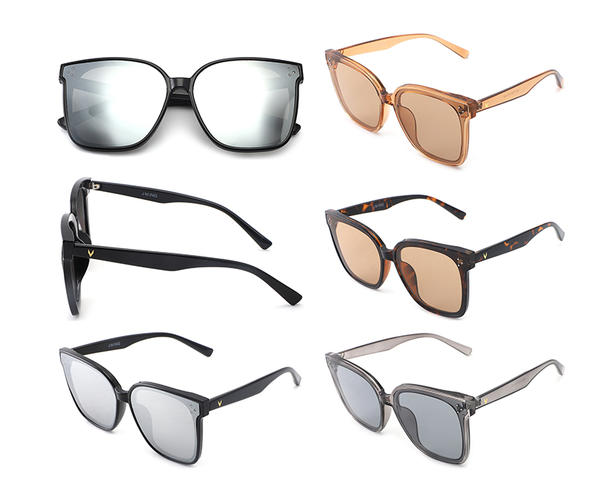 A cat-eye style of lady sunglasses is a classic design with an elongated shape. Its shape comes from the harlequin masks that were popular in Venice, Italy. Originally rejected by many opticians, the cat-eye silhouette gained fame in New York City. Today, it is a common style of lady sunglasses.Cat-eye frames are an instant classic and can go with a variety of looks. They're perfect for rock and roll outfits, romantic or feminine and professional looks. You can find them in any eyeglass store, from designer boutiques to Target and Urban Outfitters. You don't have to be Audrey Hepburn to wear cat-eye sunglasses, and they can be custom-made to fit your prescription.A classic cat-eye silhouette is the most flattering shape for round or full faces.
It draws attention away from prominent features and softens a square face.Rectangular and square styles of lady sunglasses are a versatile style that complement a wide range of looks. These stylish sunglasses can be worn with a variety of different styles of clothing, including oversized ones that are ideal for hot sunny days. They are lightweight and can be worn with a lightweight scarf.A rectangle style is often wider than a square style and has wider lenses than a round frame.
A rectangular frame also has rounded corners, and can look very classy if you know how to pair it with your style. In addition, a square style can be flattering to a wide range of face shapes. It gives a contrasting edge to softer facial features.Shield-style lady sunglasses are having their moment. This trendy style is a popular choice among celebrities and is the latest craze in eyewear. This style has futuristic features and is perfect for a casual or sporty look. It is also incredibly wearable, and it is often combined with various other eyewear elements to create an overall cool look.